Restaurants & Bars
Savor Italian, Pan-asian, and Mexican entrees at four different restaurants at Cozumel Palace.
Delightful outdoor dining areas, light snacks, and cocktails are readily available at the pool and lobby bars complete with amazing Caribbean views. All-inclusive dining at Cozumel restaurants means just that, so enjoy beverages and tantalizing dining choices at your convenience and schedule.
Choose from top shelf wines and beverages including unlimited wine by the bottle from wineries in Spain, Argentina, California, France, Italy, Chile, and Mexico.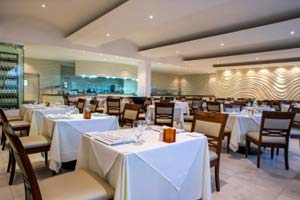 Turquesa
By offering poolside continental breakfast from 6:30 to 7:00 a.m., guests can enjoy the relaxing morning sun and a satisfying morning meal. There is a breakfast buffet from 7:00 a.m. to 11 a.m., a lunch buffet from 12:30 p.m. to 4:00 p.m., and a la carte dinner from 6:00 p.m. to 11:00 p.m. Enjoy delicious Italian a la carte dishes and satiate your pasta cravings. Long pants, collared shirts and shoes are required for dining at Turquesa.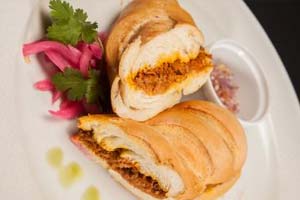 Room Service
As part of our all-inclusive offerings, you can indulge in a full menu of in-room food and beverage selections at any time. Our dedicated staff is ready to serve you in the privacy of your own room, ensuring that all meals, no matter what time of day it may be, are delivered quickly and beautifully presented too.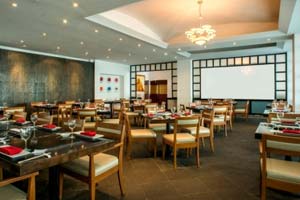 Momonohana
Tap into your Zen state and enjoy delicious Asian dishes served a la carte from 5:30 p.m. to 11:00 p.m. Scrumptious and decadent main dishes as well as desserts are waiting for you at Momonohana.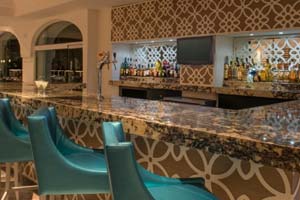 Lobby Bar
Bar with Top-Shelf brands
Hours: 8:00 am - 12:00 am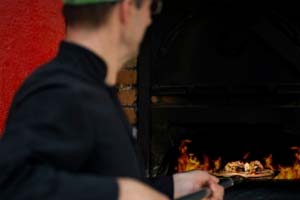 Flamingos
Flamingos Snack Bar: Enjoy daytime snacks at this poolside swim-up bar & grill. Come back for dinner and enjoy a delicious BBQ buffet.
Gourmet pizzas: from 3:00 pm-9:00 pm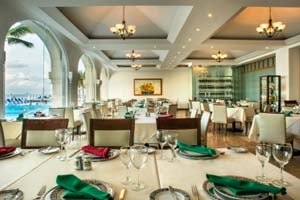 Bugambilias
Our typical Mexican menu delights even the most demanding palates. Guests can enjoy a la carte dinners from 5:30 p.m. to 11:00 p.m. Choose the Mexican country atmosphere of Bugambilias, and discover real Mexican flavors.